Heat Pipe Exchanger
Working Principle
Heat transfer through the phase change latent heat of the working medium in a closed vacuum tube. The heat pipe has high heat transfer capacity and a good heat transfer efficiency. The sealed tube evacuated,then filled with a small amount of working medium. And the lower end of the heat pipe is heated, the working fluid absorbs heat and vaporized into steam, under a small pressure difference, the steam go to the heat pipe top end and release heat to the outside, then the working medium condenses into liquid again, the liquid along the inner wall of the heat pipe return to the lower heated section under the action of gravity. Then absorbs heat again. Recurring, continuously transfer heat from one end to the other.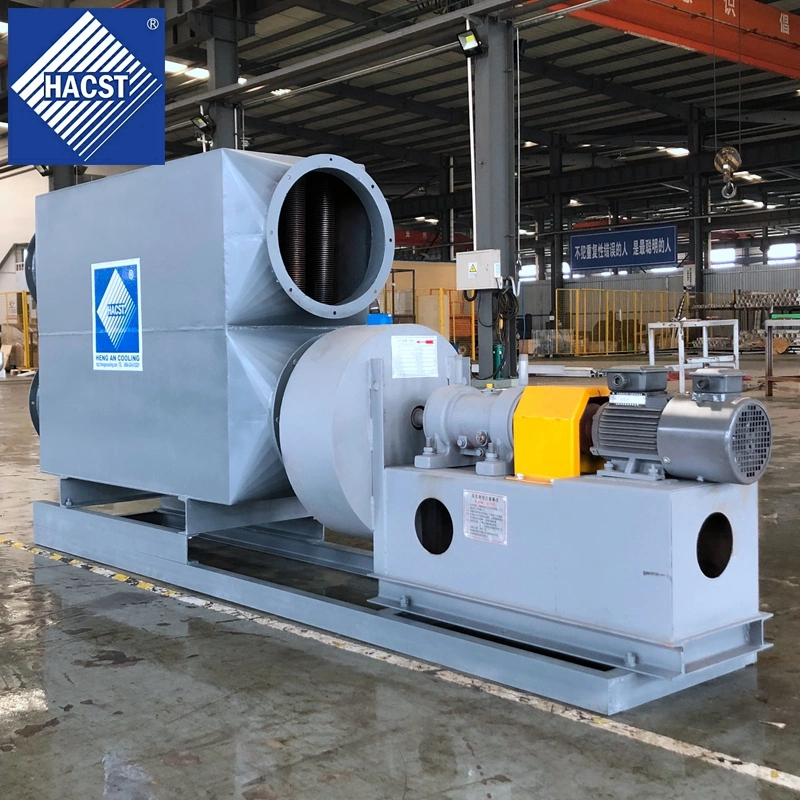 Technical Specification
| | |
| --- | --- |
| Tube | Copper, carbon steel, SS304,SS316L |
| Fin | Copper ,Aluminium ,SS304,SS316L |
| Casing | Galvanized steel, Stainless steel |
| Specification for the Coils | as per the pressure |
Characteristic
1. Easy installation. the waste heat recovery equipment installation, no need to modify the original steam horseshoe or industrial kiln. No environmental restrictions, Heat pipe can be designed according to the environment requirements.
2. Safe and reliable. the heat pipe isothermal is good, fast heat transfer, high efficiency. Resonance occurs during heat transfer, does not produce dirt and ventilation resistance. Won't affect the steam horseshoe kiln or kiln of normal work under any condition.
3. Density variability. The heat pipe can independently change the heat transfer area of the evaporator section. It means the heat pipe can reduce the heating area of absorbs heat, and increase cooling area of release heat. Or Heat pipe can increase the heating area of absorbs heat, and reduce cooling area of release heat.
4. Wide application. Can be used in food, control, building materials, steel, electronics, chemicals, wood processing, paper, pharmaceutical, clothing, beverages, machinery and other industries. Can adapt to a variety of harsh working environment.
5. Long life. Corrosion-resistant, High temperature, lifetime 8-10 years.
6. Energy-saving. energy-saving 10%-30%, emission reduction 10%-20%, equipment investment recovery time is short, 3-10 months can recover the full investment.
7. Easy maintenance. Easy to remove dust, maintenance convenient.
Company Introduction
Heng An has come a long way since it was established in 1975, and now has 900+ employees. Heng An Cooling is one of the largest manufacturers of cooling towers, evaporative condensers and air coolers in China. For more than 40 years, we have provided exceptional quality euqipment and service to the industrial, refrigeration, power generation and other engineering areas. Our company and products are certificated by ISO9001, ISO/TS16949, ISO14001, CE,TUV and BV.
| | |
| --- | --- |
| National Testing Laboratory | Established in 1983, Heng An Laboratory is a state level testing laboratry. It is equipped with the most advanced and comprehensive testing equipment. |
| Outstanding R&D Ability | Heng An established cooperative bases for the production research with many institutes. We also establish Shandong Engineeering Technology Research Center and Provincial Technology Center for product research and development.We have 52 professinals working on the product R&D area,21 of them have senior professional titles and 12 have doctor degrees. We own 12 national new product catalogues,121 natinal patents and provincial level technology research& innovation projects |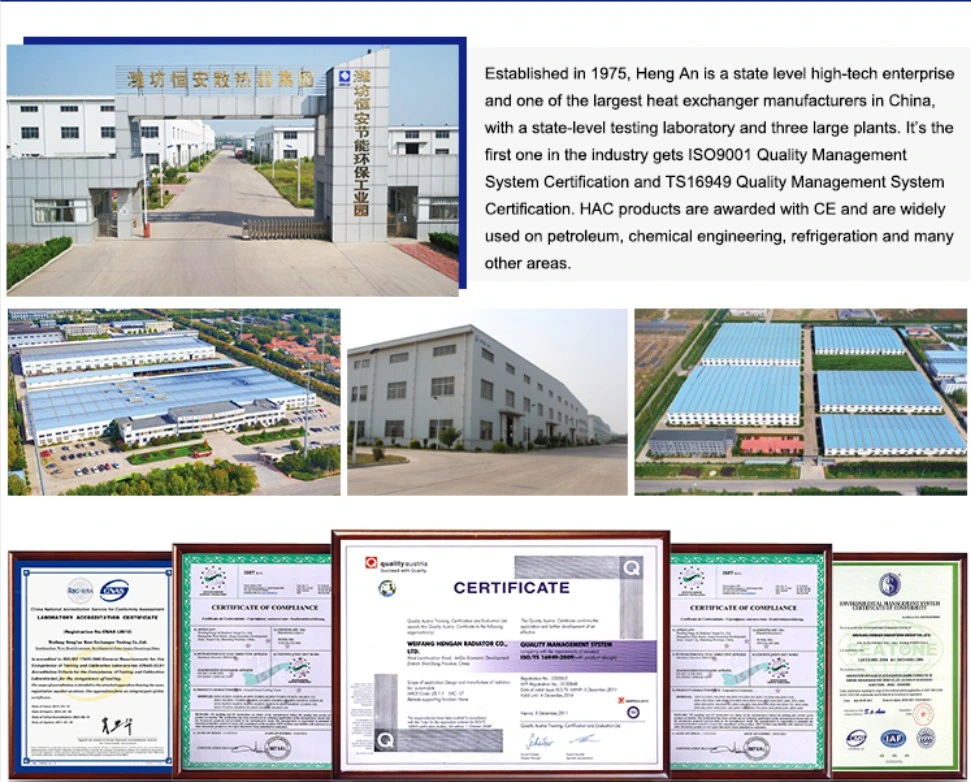 FAQ
1.Q: Your company is a manufacture or trading company?
A: We are a leading manufacturer for heat exchange equipment since 1975. It is a "famous brand"-HAC manufacture in China.
2.Q: How do I get repair parts and how long does it take?
A: The spare parts can be sent to you within one week. We will provide free spare parts for three years
3.Q: What if I don't have the professional engineer to install or maintain the product?
A: We could send experience engineers on site to install the product and train your staff for equipment operation and maintenance.
4. Q. How can I choose a suitable model?
A: As long as you provide the following information, we will provide the proposal and help select the right model for you as long as you answer the above questions.
a) exhaust temperature
b) exhaust flow
c) outlet temperature
d) exhaust pressure

e) exhaust composition