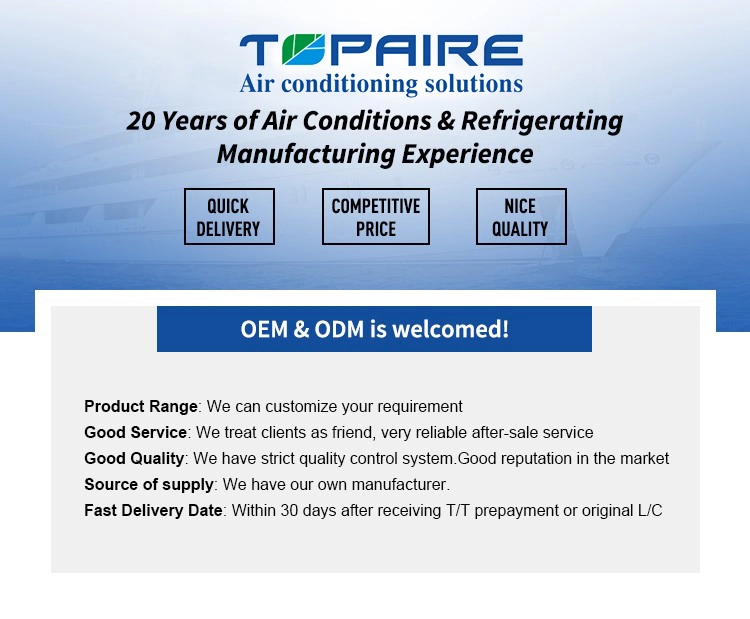 Production name: Crank deck air conditioner 2300w 9000BTU 220/50/1 R410a
Voltage: AC220/50/1
Cooling capacity: 2300w
Heat capacity: 2000w
Power consumption: 1020w (cooling) / 235000w (heating)
Remote controller is equipped.
Ambient temperature: -20C - 45C
Humidity 100% and salt damage is taken into consideration
Classification: CE approval
Regulation and standard: IEC and each classification rule
Test and inspection: Before delivery of the equipment



Documentation:
Following documents should be submitted.


Outline drawing for confirmation




Data sheet for confirmation




All drawings which is necessary for installation




Instruction manual




Test report




List of safety indication label for equipment




Warranty:
The seller shall warrant the equipment against defects due to defective design, materials and workmanship for 18 months from delivery of product or 12 months after completion delivery of the ship equipped with the buyer's product (Deck Crane), which ever coms earlier. If such defects should occur within that period, the seller shall remedy such defects at the seller's expense.

5500BTU MARINE ROOFTOP AIR CONDITIONER 230/50/1 R410A