Plate heat exchanger for Hydraulic oil cooling(heat exchanger plate)
Introduction of plate heat exchanger
1. Overview
Plate heat exchanger is a new efficient and compact heat exchanger that has developed and extensively used in the recent decades. It consists of multiple parallel corrugated-surface thin metal sheets that overlap and are then fixed by lamp plates and bolts. The cold working fluid and the hot working fluid flow through the narrow and winding passage made of two neighboring plates alternately and realize cold and heat exchange through the plates separating the two working fluids.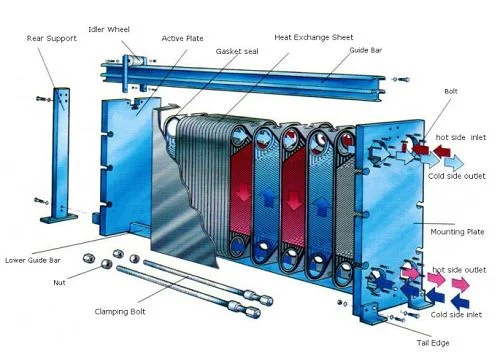 Products Feature :
1,High Efficiency with Life Cycle Suppor
2,High Heat Transfer Rates
3,Modularity For Flexibility
4,Compact Design
5,Self-Cleaning Action
6,Easy to maintance Component
product feature :
The plate heat exchanger consists essentially of heat transfer plates, gaskets and a clamping device. Thanks to its structure and heat exchange principle, it is characterized by compact structure, small floor area, high heat transfer coefficient and operation flexibility, wide application range, small heat loss, easy installation and cleaning, etc. The two mediums have a mean temperature difference as small as 1ºC and heat recovery efficiency higher than 99 percent. Based on the same pressure loss, the plate heat exchanger has, compared with a tubular heat exchanger, a heat transfer coefficient two to four times higher, a one-third floor area and a two-thirds metal consumption. It is therefore an efficient and energy, material and investment saving advanced heat exchanger. It is now widely used in industrial fields such as chemical industry, petrochemical, food, machinery, central heating, metallurgy, power, ships, paper-making, textile, pharmaceutical industry, nuclear industry, sea water desalination and combined heat and power generation to meet the requirements of processes such as cooling, heating, condensation, concentration, sterilization and residual heat recovery. It has become a highly competitive product in the heat exchanger field or evenly has replaced conventional tubular heat exchangers. With its development, it will be used in more and more fields.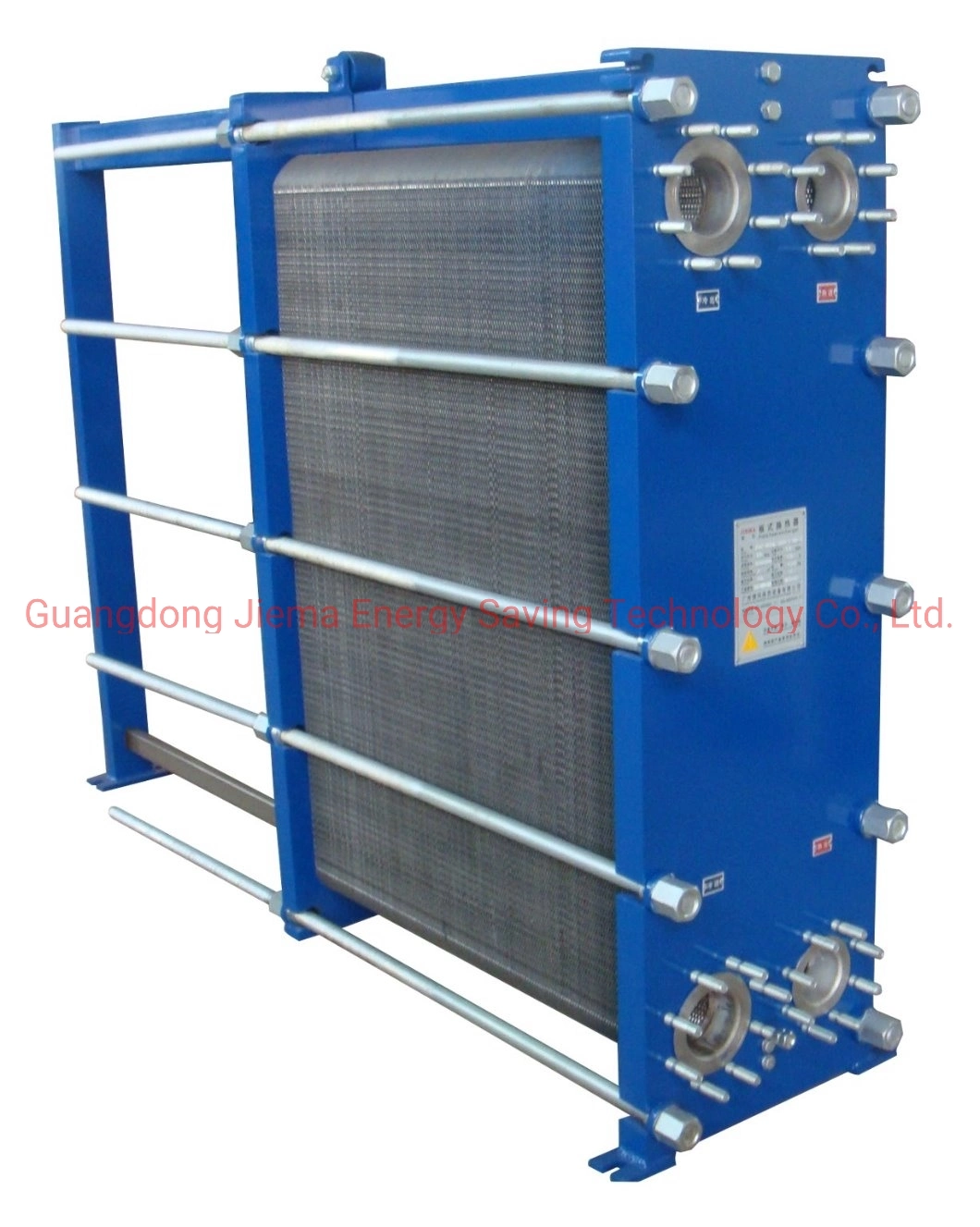 Component Materials
Heat-exchange plate:
SUS304, SUS316L, SMO254, titanium, nickel, Hastelloy alloy
Gasket
: NBR, H-NBR, EPDM, food pad, fluorine rubber, silicon rubber
Frame:
Carbon steel, stainless steel, coated stainless steel
Clamping bolt
: Galvanized carbon steel, stainless steel
Interface
: Rubber, carbon steel, stainless steel
Guide bar:
Galvanized carbon steel, stainless steel
| | | | |
| --- | --- | --- | --- |
| Material Description | Code | Applicable Temperature (degree centigrade ) | Anti-corrosive Performance and Applicable Occasions |
| NBR | N | -20~110 | Hot air, water, non-polar oil, mineral oil, lubricant and silicone oil, etc. |
| EPDM | E | -50~150 | Vapor, polar chemical medium, alcohol, weak acid, weak alkali and oxidizing agent, etc. |
| CR | C | -40~100 | Ammonia, mineral oil and lubricant, etc. |
| Fluorine Rubber | F | 0~180 | Inorganic acid, alkali, mineral oil and Haloalkane, etc. |
| Silicon Rubber | Q | -65~230 | Resistant to cold current and dry hot |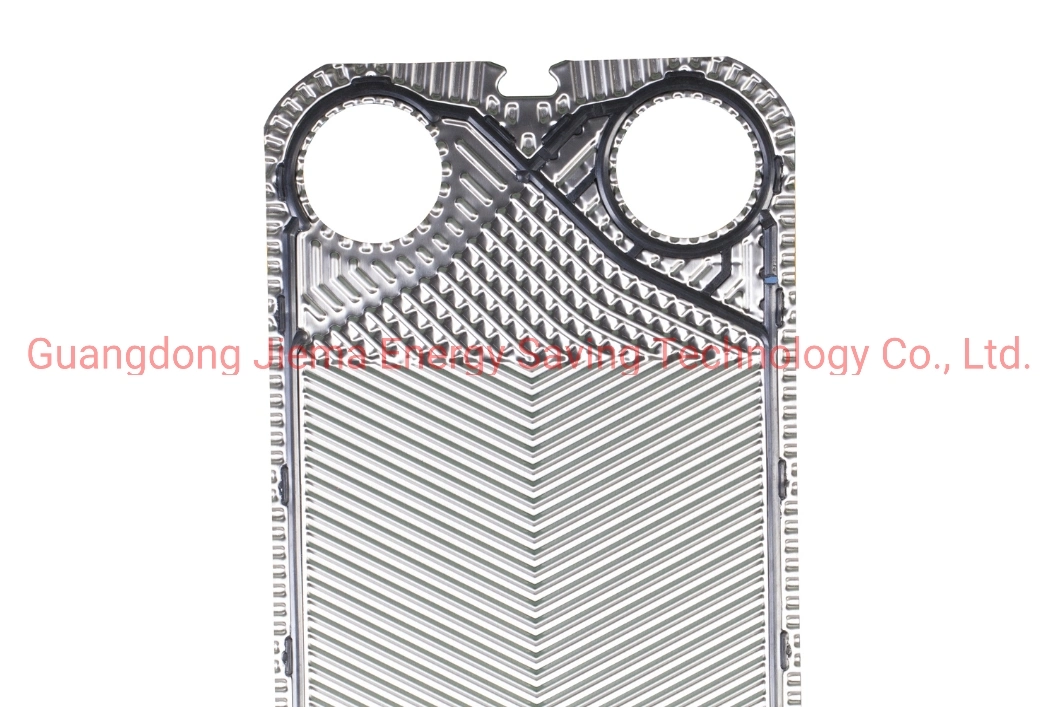 Usage parameter :
Design temperature : 180 ºC
Design pressure : 16 bar
Please provide the following working parameters, we will provide you with professional design and selection Suggestions.
Capacity (Kw/Kcal/h)
Hot side medium
Cold side medium
Flow rate
Flow rate
Inlet temperature
Inlet temperature
outlet temperature
outlet temperature
Working pressure
Working pressure
Allowable prssure drop
Allowable prssure drop
Contact: Seana
Mobile:+86 13802722945

Web:jm-heat-exchanger.en.made-in-china.com
Tel:+86-20-82249117
Fax:+86-20-82031613
The sheet is of unique linear and planar positioning structure, which can reduce the possibility for inter-sheet malposition;
Fillets in the sheet are of "Interlocked" structure which allows for mutual interlocking of sheets.
The herringbone corrugated sheet is featured by high heat transfer efficiency; in addition, net-shaped contacts are formed in mutually reverse directions after the entire machine is assembled, featuring good pressure resistance. Introduction to Sealing Gasket Sealing gasket is inserted and fixed to the slot in heat-exchanging sheet, featuring easy insertion and replacement of sealing gasket, which can substantially reduce stoppage time. Sealing function is separated from fixing function. Even if some "clamps" with fixing function fail, the gasket can still have sealing function in the slot. Application : HVAC(constant-temperature swimming pool, solar energy ,domestic water , air condition and heating ), textile printing & dyeing industry, pharmacy, food , chemical , paper making , steel and electromechanical and so on .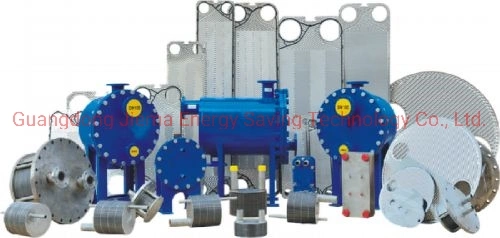 About Warranty We promise 10 year guarantee, all reasonable relevant cost will be undertaken by us in the first year if our heat exchanger fail to work due to quality problem, only the free repairing operation guide is available in the rest of the 9 years via E-mail /Fax/Phone
Contact Me:
Seana
M :0086-13802722945
T :0086-20-82249117
F: 0086-20-82031613
Products+workshop+certificate :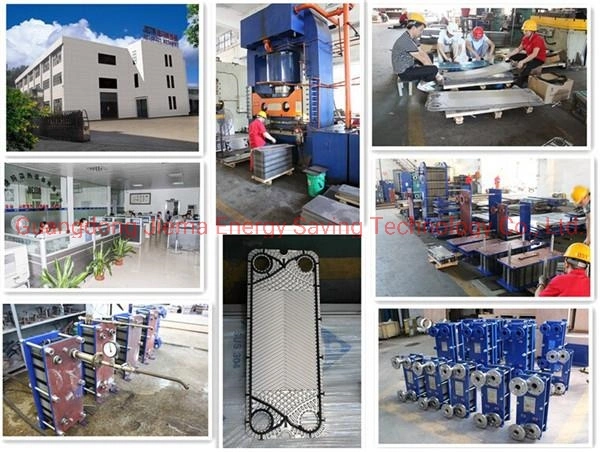 Please provide the following working parameters, we will provide you with professional design and selection Suggestions.
Capacity (Kw/Kcal/h)
Hot side medium
Cold side medium
Flow rate
Flow rate
Inlet temperature
Inlet temperature
outlet temperature
outlet temperature
Working pressure
Working pressure
Allowable prssure drop
Allowable prssure drop
Contact: Seana
Mobile:+86 13802722945

Web:jm-heat-exchanger.en.made-in-china.com
Tel:+86-20-82249117
Fax:+86-20-82031613