Construction
Plates
The range of plates produced for Plate&Shell product family currently comprises 9 sizes with diameters ranging from 190 to 1358mm. Plates can be produced in a wide range of materials. After pressing and cutting, the plates are welded together to form a fully welded platepack. Nozzles are added which carry flow in and out of the platepack (the 'Plate side' flowpath).
Shells
The fully welded platepack is assembled into an outer shell which creates a second flowpath ( the 'Shell side'). The different types of shell arrangements and the normal flow patterns are shown below.
Shell and plate type heat exchanger is composed of round plate bundle and shell, plate bundle is the core, sealed in shell. Plate defines the efficiency of PHE, while shell defines the design temperature and pressure.
The medium pass through the port holes and into the gap between the plates. The heat transfer takes place when the warmer product transfers energy through the flow plates and delivers it to the colder opposing medium without mixing the both products.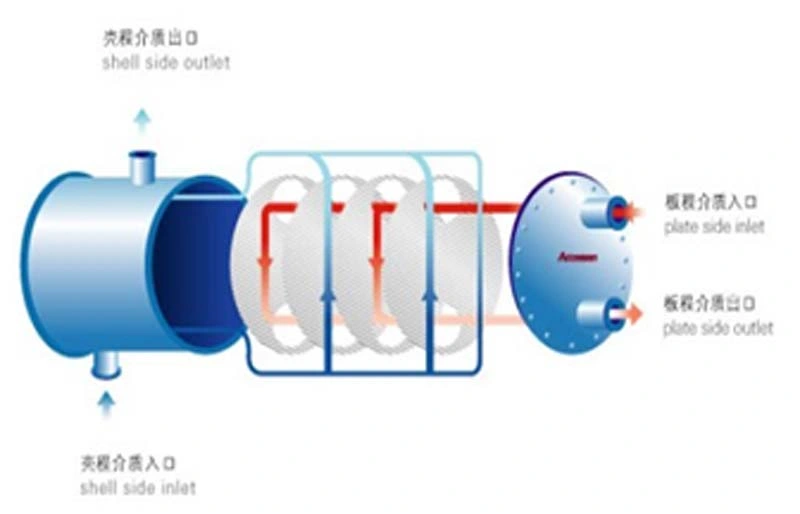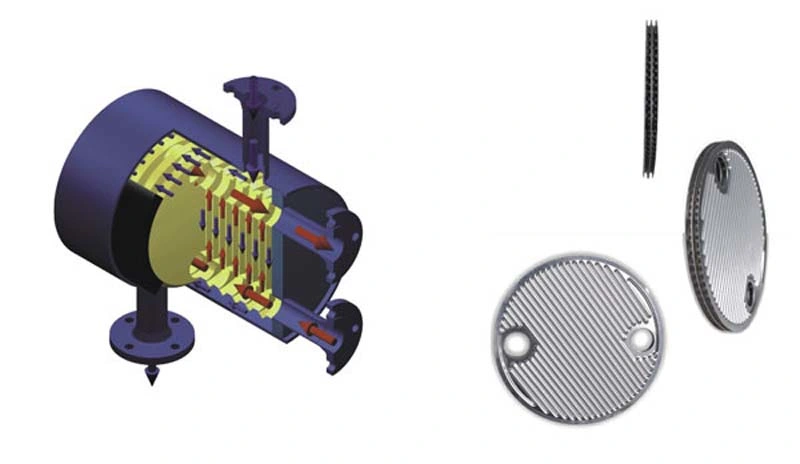 Plate and shell heat exchangers benefits
High pressure standing capability
High temperature standing capability
Minimum temperature difference
Lower pressure drop
Compact size
Robust and gasket free construction
High heat transfer efficiency
Easy to install and insulate
Many material available

Types of plate and shell heat exchangers
Heater, Cooler, Condenser, Vaporizer, Recuperator, Cascades, Evaporator, Desuperheaters, Subcooler, One Phase PHSE, Two Phase PHSE, Fully welded PHSE , Detachable PHSE

| | | |
| --- | --- | --- |
| A L | M Series | M3/M6B/M6M/M10B/M10M/M15B/M15M/MX25M/M30/MA30M/MA30S/MA30W/MS6/MS10 |
| | Clipline | Clip3/Clip6/Clip8/Clip10/Clip15 |
| | T Series | TS6M/TS20M/TL6B/TL10P/T20M/T20P/T20S/T2B/T5B/T5M/T8B/T8M/T35P/T45M/T50M/TL35B/TL3/TS6M/TS35P/TL15B/TL20P/TS50M/ |
| | P Series | P1/P2/P5/P12/P13/P14/P15/P16/P17/P20/P22/P26/P30/P31/P32/P36/P41/P45 |
| | A Series | A3/A10/A10B-A/A15/A15B/A20/A20B/AK20/A30/A35/AX30/AM10B/AM15B/AM20/AX30 |
| GEA | NT Series | NT100T/NT100M/NT100XNT150S/NT150LNT250S/NT250M/NT250LNT350S/NT350M/NT50L/NT50T/NT50M/NT50X |
| | VT Series | VT04/VT10/VT20lock-in/VT20P/VT40lock-in/VT80M |
| FUNKE | FP Series | FP02/FP04/FP05/FP08/FP10/FP12/FP14/FP16/FP20/FP22/FP31/FP40/FP41/FP50/FP60/FP80/FP205 |
| Tranter | GX Series | GX6/GX12/GX18/GX26/GX37/GX42/GX51/GX60/GX64/GX85/GX91/GX100 |
| | GC Series | GC16/GC18/GC26/GC51/GC60 |
| | Others | GL12/GL13/GL18/S3/UX01/UX05/UX20/UX40/UX80 |
| Sondex | S Series | S4/S4A/S7A/S8/S8A/S9A/S14A/S19A/S21/S21A/S22/S31A/S21/S22/S37/S42/S43/S62/S65/S81/S121/SM3/S113/S100 |
| Vicarb | V Series | V2/V4/V8/V13/V20/V28/V45/V60/V85/V100/V110/V130/V170/V180/V205/AU8 |
| Thermowave | PP Series | TL90PP/TL150PP/TL250PP/TL400PP/TL450PP/TL500PP/TL650PP/TL850PP |
| | SS Series | TL90SS/TL150SS/TL250SS/TL400SS/TL450SS/TL500SS/TL650SS/TL850SS |
| APV | | H17/N35/B063/A055/A085/Q080/T107/T14/SR1/SR2/SR3 |
| Special Plate | | Double Wall/Semi-Welded/Free Flow/Wide gap |
Technical Parameter for PSHE offer
Working condition
Duty
Flow rate
Medium
Working pressure
Working temperature
Pressure drop
Thermodynamics properties



Applications for PSHE
Refinery, Petrochemical, Fine and Specialty Chemical, Pharmaceutical, Industrial Gas, Fertilizers, Food & Beverage, Edible Oil & Biodiesel, Pulp & Paper, Mining, Minerals and Metal Industry, Chemical process, Refrigeration industry, Marine industry, Power station, Energy, Chemical Process

Service
Design/Calculate/Data/Drawings
12 months free warranty and life-long maintenance
Training and Operation Manuel
Top quality, Competitive price, Fast feedback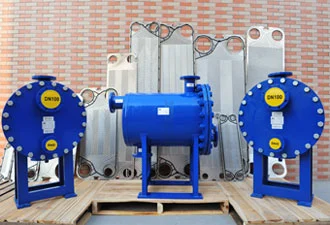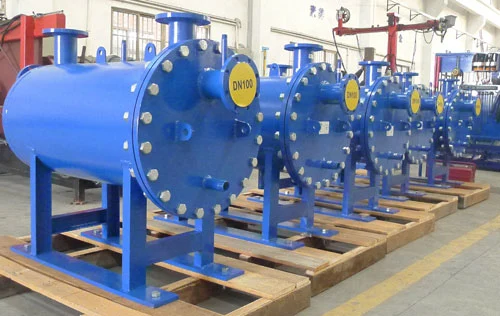 More details and materials, Please contact us directly.

Linda Zhu
Shanghai Empire Mechanical Engineering Co., Ltd
Add:No.16, Lane 399, Zhenzhongxin Road, Songjiang District,SH
Tel: 0086 (0)21 5984 8799 ext. 820
Fax: 0086 (0)21 5984 8797
Mob: 0086 139 1812 7268
Website: empireheatexchanger.en.made-in-china.com