Stainles Steel Plate Heat Exchanger Design for Food Sterilization & Cooling Industry

SWEP stainless steel detachable plate heat exchanger for industrial waste heat recovery

Main Features:
Great logarithmic average temperature difference:
1.Plate heat exchanger can realize full countercurrent form; the temperature correction coefficient is 1.
High heat transfer coefficient:
2.The corrugation of the sheet in plate heat exchange can make fluid generate turbulent flow with minor Reynolds number; its heat transfer coefficient is 3-5 times as large as that of shell-and-tube heat exchanger, reaching 7,000W/m
2
K at the most.
Small floor area:
3.

Plate heat exchanger features compact structure. The heat-exchanging area per unit volume is 2-5 times as large as that of shell-and-tube heat exchanger; the floor area occupied by plate heat exchanger is approximately one fifth to one tenth of the area occupied by shell-and-tube heat exchanger, given that the same heat exchange task is fulfilled by them.
Light weight and low price:
4.

The sheet in plate heat exchanger is only 0.5-0.8mm in thickness. The heat-exchanging area needed by it is smaller than that needed by shell-and-tube heat exchanger, given that the same heat-exchange task is fulfilled by them. The weight of plate heat exchanger is only around one fifth of the weight of shell-and-tube heat exchanger.
Small temperature difference at the end:
5.

As for water-water heat exchange, the lowest temperature difference at the end can be lower than 1ºC, which is extremely beneficial to the recovery of low-temperature heat energy.
Low dirt coefficient:
6.

The dirt coefficient of plate heat exchange is small for the following reasons: Violent turbulent flow of fluid causes low-possibility deposition of impurities; the dead zone of inter-sheet channel is small; the heat-exchanging surface made of stainless steel is smooth, which results in less corrosive attaching.
Heat exchange with multiple media:
7.

Plate heat exchange allows for heat exchange with three or more media via the middle clapboard, which is extensively applied in milk product processing techniques.
Convenient cleaning:
8.To clean the sheet mechanically, unscrew the clamping bolt in plate heat exchanger to loosen the binding of plate and then unload the sheet, featuring extremely convenient maintenance.

Application: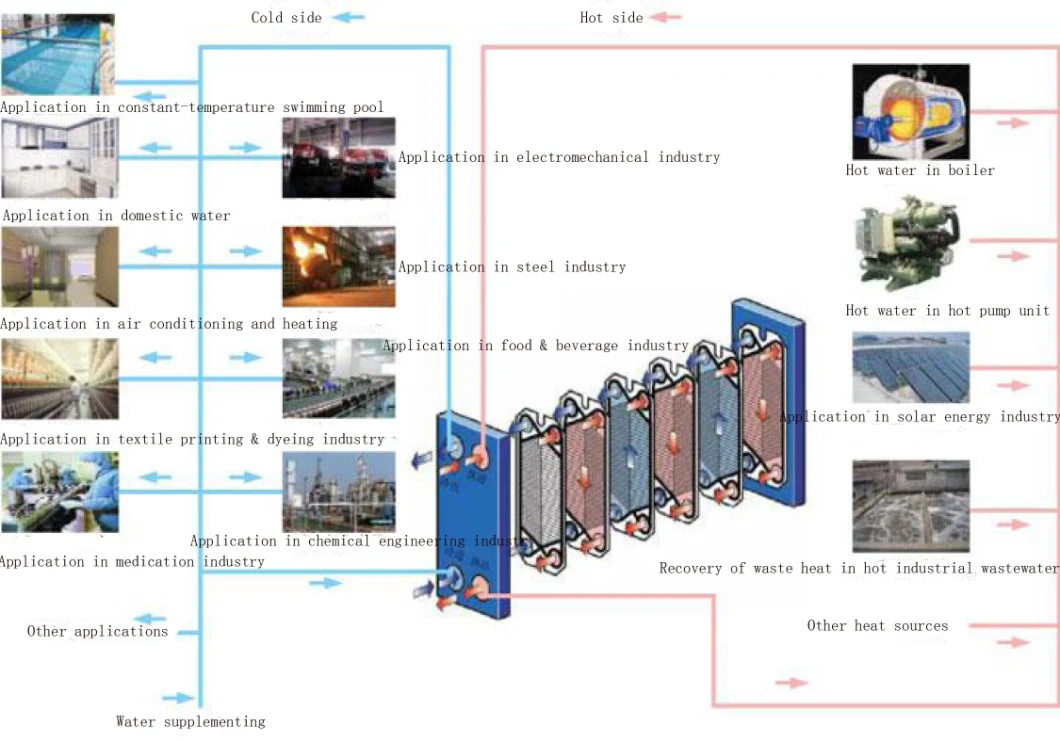 The composition of the plate exchanger(How it work)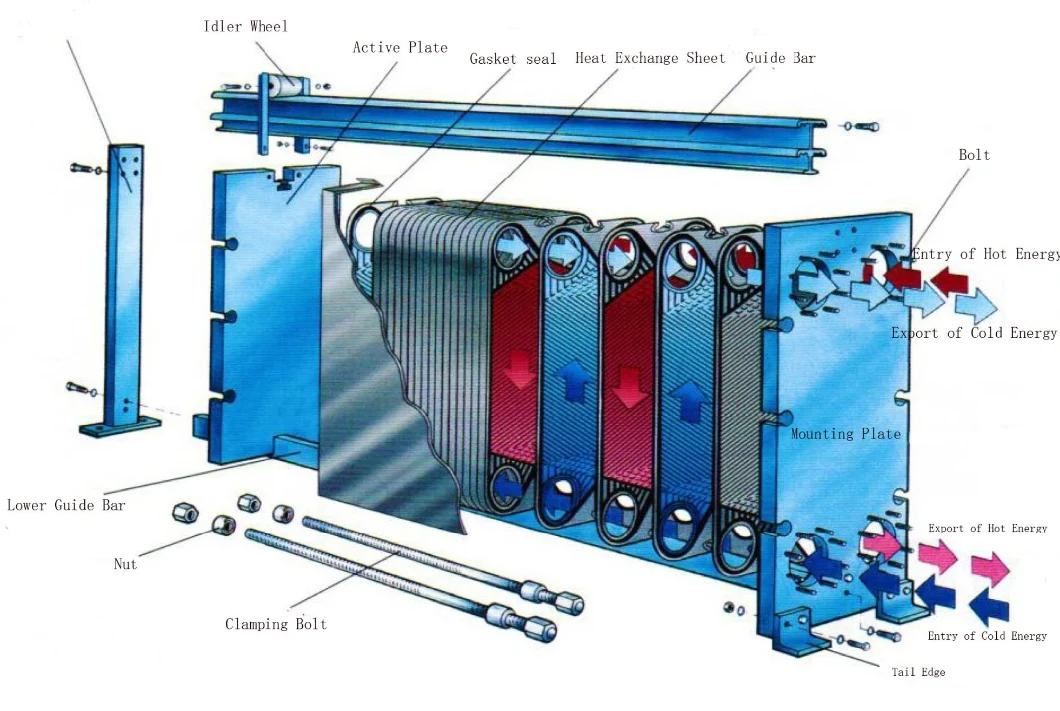 Characters:

1.Corrugated Stainless steel plate,counter flow style make sure high heat transfer coefficiency and enable highest average Log temperature difference and lowest terminal temperature difference .

2.Compact, Smooth surface,detachable ,moduled,easy to wash

3.Multi-media available .Water-water(fluid-fluid), Steam(gas)-water(fluid) ......

4.Widely applications:
Such as :petro,chemical,food,machinery, metallurgy,power generation,marine,textile,pharmacy,papermaking,centralized heating process ,congenerationpool heating,domestic heat supply,industrial waste water/gas heat recovery,for cooling ,heating,condensing,concentrate,pasteurization,waste heat recovery.

4.SUS304, SUS316L, SMO254, titanium, nickel, Hasy-alloy plate available;NBR, H-NBR, EPDM, food pad, fluorine rubber, silicon rubber gasket available.

5.CE,SGS,ISO9001 certified.Many patents.Quality guaranteed.
Jiema Power&Certificate:
10 years experience:heat exchanger and presusre vessel
2 production bases:Guangzhou,Hubei
5 Export market:Aisa,Mideast,Africa,South America,America
Strong technican team: 5 senior engineers who have over 15 years experience in heat
transferring area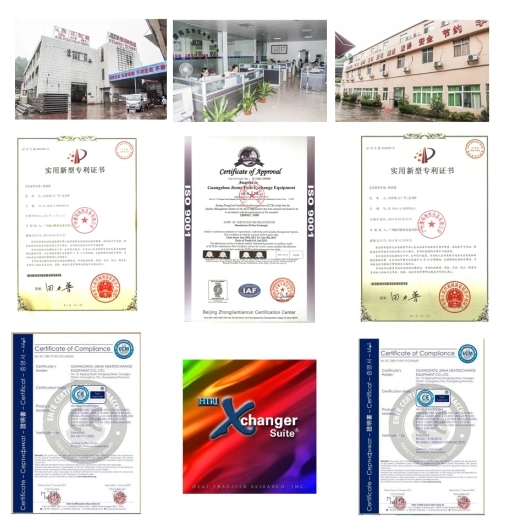 Please provide the following working parameters, we will provide you with professional design and selection Suggestions.
Capacity (Kw/Kcal/h)
Hot side medium
Cold side medium
Flow rate
Flow rate
Inlet temperature
Inlet temperature
outlet temperature
outlet temperature
Working pressure
Working pressure
Allowable prssure drop
Allowable prssure drop
For more Plate Heat Exchanger information,Please Contact us !
Web:jm-heat-exchanger.en.made-in-china.com
Tel:+86-20-82249117
Fax:+86-20-82031613
Contact:Junna