hydronic hot water boilers water to air heat exchanger

Product Description
Use the Water to Air Heat Exchanger - 16 inch x 20 inch - HTL1620 with

Hydronic Hot Water Boilers

with or without Glycol. Use in existing Plenums and used for new and existing

hot air furnaces

.
Designed to be added into existing or new duct work - adds hot water space heating for new or existing

water heaters or hot water boilers

. Inlet and outlet connections are 1" diameter copper supply and return piping. Inside diameter for connections is 1 inch - outside diameter is 1 1/8 inches 1/2 Inch duct flange for mounting.
A - 16 Inches / B - 20 Inches / C - 3.5 Inches / D - 11.5 Inches
The amount of heat transferred is dependent on the delta T (difference of temperature between the two fluids). It also depends on the amount of fluid moving through both sides of the heat exchanger
Drawing: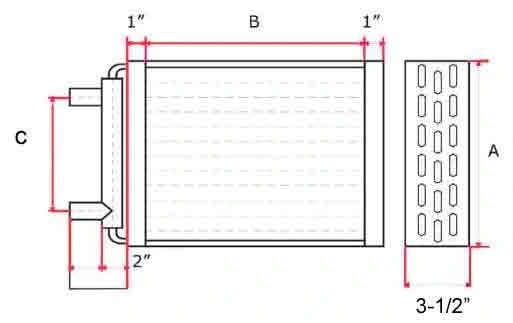 Different size, Customized according to client's requirements:
| | | | | | |
| --- | --- | --- | --- | --- | --- |
| Item | Btu | CFM | Pressure Drop Air | Pressure Drop Water | GPM |
| 12x12 | 50,000 | 700 | 0.5 | 0.2 | 6 |
| 12x18 | 80,000 | 800 | 0.5 | 0.2 | 6 |
| 14x14 | 85,000 | 800 | 0.5 | 0.2 | 7 |
| 14x18 | 95,000 | 800 | 0.5 | 0.2 | 7 |
| 15x15 | 98,000 | 1000 | 0.51 | 0.206 | 8 |
| 16x16 | 90,000 | 1250 | 0.51 | 0.257 | 8 |
| 16x18 | 100,000 | 1650 | 0.81 | 0.254 | 10 |
| 18x18 | 130,000 | 2000 | 0.91 | 0.325 | 12 |
| 18x20 | 140,000 | 2350 | 1.32 | 0.359 | 14 |
| 19x20 | 150,000 | 2500 | 1.49 | 0.388 | 15 |
| 20x20 | 160,000 | 2700 | 1.38 | 0.4 | 16 |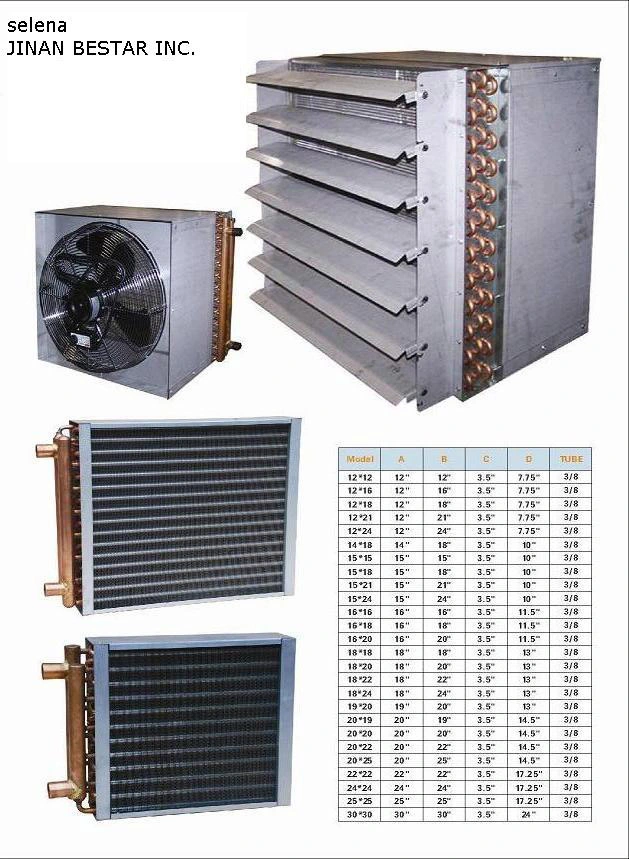 Packing details: