Construction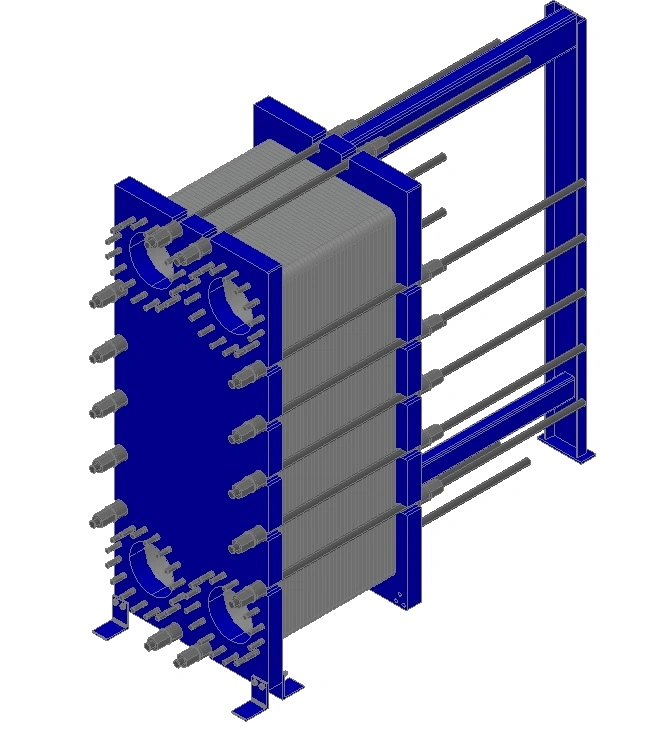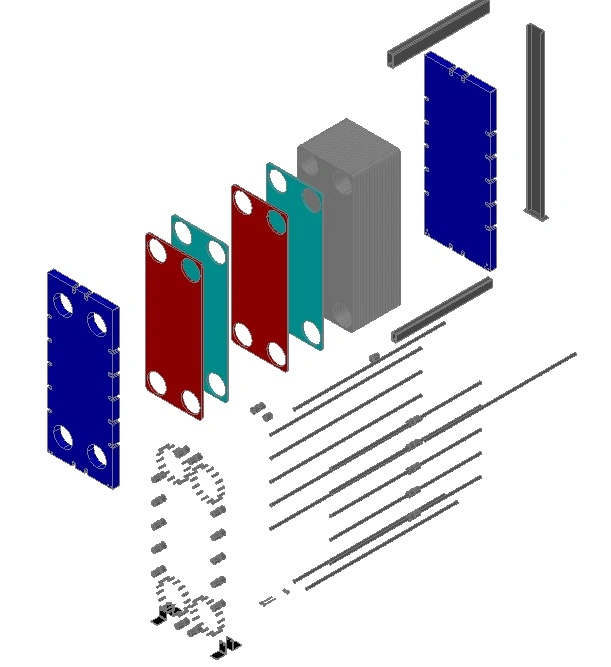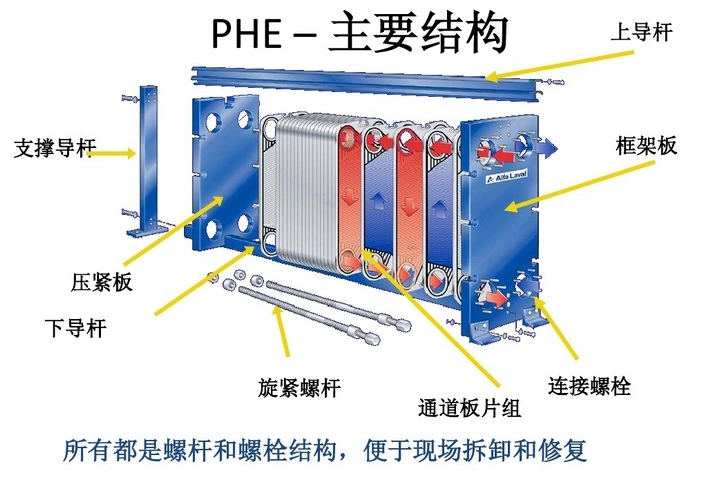 Heat exchanger
consists of a pack of corrugated metal plates with portholes for the passage of the two fluids between which heat transfer will take place. The plate pack is assembled between a fix frame plate and a movable pressure plate and compressed by tightening bolts. The plates are fitted with a gasket which seals the interpolate channel and directs the fluids into alternate channels. The number of plates is determined by the flow rate, physical properties of the fluids, pressure drop and temperature program.The plate corrugations promote fluid turbulence and support the plates against differential pressure. The frame plate and the pressure plate are suspended from an upper carrying bar and located by a lower guiding bar, both of which are fixed to a support column. Connections are located in the frame plate, if either or both fluids make more than a single pass within the unit, in the frame and pressure plates.
Efficient heat transfer
Gasketed plate-and-frame heat exchangers (GPHEs)
provide efficient heat transfer in compact equipment with a small footprint - much smaller and more efficient than shell-and-tube heat exchangers.
Plate heat exchangers
are designed to optimize heat transfer, because the corrugated plates provide by far the greatest surface area through which the heat can be drawn from one gas or liquid to the other.The units also have a flexible design and are easy to service and maintain.
B
enefits
Precision heat transfer
- closer approach temperature, true counter current flow, 80-90% less hold-up volume.
Low overall cost
- low capital investment, reduced installation costs, limited maintenance and operating costs.
Maximum reliability
- less fouling, stress, wear and corrosion.
Environmentally responsible
- minimum energy consumption for maximum process effect, reduced cleaning.
Easy to expand capacity
- simply add or remove plates on the existing frame.
Types of gasketed plate heat exchangers
Industrial
-extremely versatile range of heat exchangers for use in all types of industries.
Industrial semi-welded
-used in refrigeration when gaskets are not suitable for one of the media and when higher design pressures are needed.
WideGap
-used for applications involving fibrous liquids, highly viscous fluids, and fluids containing coarse particles.
E
vaporators
-tailor-made, rising film plate surface evaporator.
C
ondensers
-a compact, plate surface vacuum condenser.
Technical Parameter for PHE offer
Working condition
Duty
Flow rate
Medium
Working pressure
Working temperature
Pressure drop
Thermodynamics properties
ASME Code Requirements
Plate Heat Exchanger Specifications
Model
Frame Type
Dimensions(mm)
Connections
(mm)
Max Flow
(M3/H)
1.0Mpa
1.6MPa
2.5MPa
Height
Width
Length
TF3SM
LF10
LF16
-
320
160
140-440
20-30
20
TF3
LF10
LF16
-
480
180
250-400
20-30
20
MF10
MF16
-
480
180
250-500
20-30
20
TF6B
LF10
LF16
LF25
920
320
500-700
50-60
40
MF10
MF16
MF25
920
320
500-1400
50-60
40
TF6M
LF10
LF16
LF25
920
320
500-700
50-60
40
MF10
MF16
MF25
920
320
500-1400
50-60
40
TF10B
MF10
MF16
MF25
1100
470
700-2300
100
190
TF10M
MF10
MF16
MF25
1100
470
700-2300
100
190
TF15B
HF10
HF16
HF25
1885
650
1100-3700
150
400
TF15M
HF10
HF16
HF25
1885
650
1100-3700
150
400
TF20M
HF10
HF16
HF25
2140
780
900-4100
200
600
TF25B
HF10
HF16
HF25
2590
920
1600-3500
250
1100
TF30
HF10
HF16
HF25
2880
1170
1600-4800
300
1300
TF10FF
MF10
-
-
1650
520
900-3500
100
190
TF20FF
HF10
-
-
2100
750
3600-4100
200
600
Applications for P
HE
Refinery, Petrochemical, Fine and Specialty Chemical, Pharmaceutical, Industrial Gas, Fertilizers, Food & Beverage, Edible Oil & Biodiesel, Pulp & Paper, Mining, Minerals and Metal Industry, Chemical process, Refrigeration industry, Marine industry, Power station, Energy, Chemical Process
Service
Design/Calculate/Data/Drawings
12 months free warranty and life-long maintenance
Training and Operation Manuel
Top quality, Competitive price, Fast feedback
Package details: standard export plywood case & carton & customizing according to your requirements.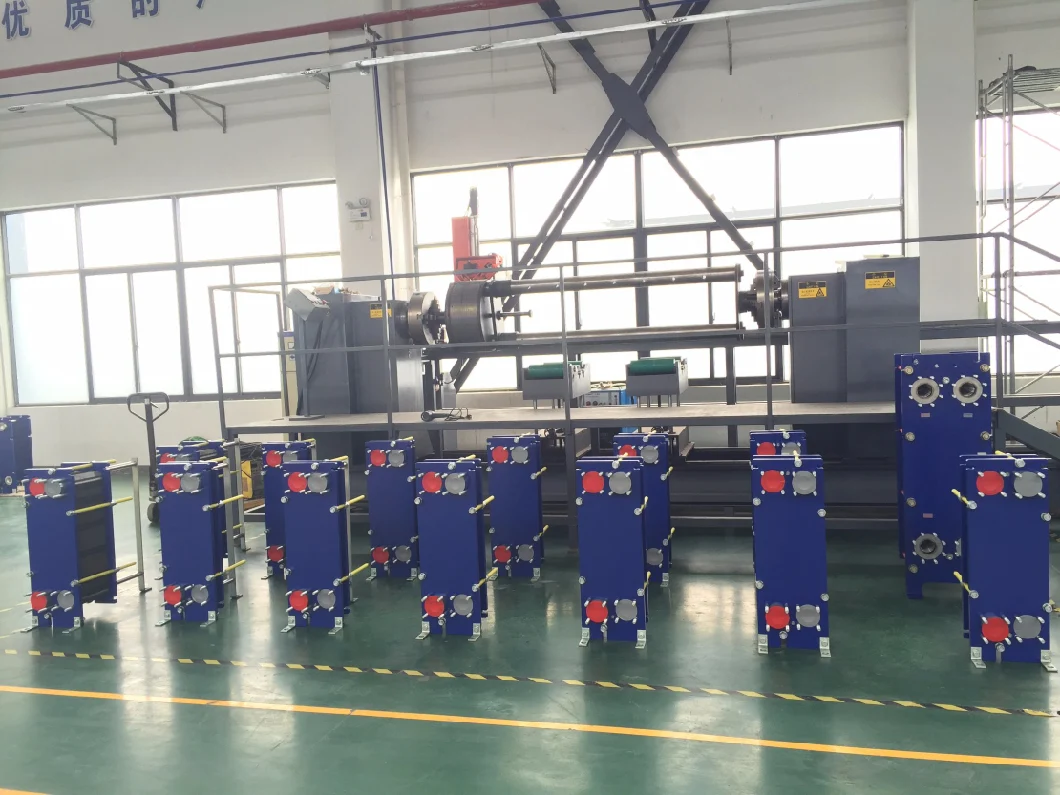 One Customer ordered 14 sets Plate Frame Heat Exchangers will be delivered.

Material available for 0.5
mm
&0.6mm
&0.8mm &1.0mm,
304SS, 316SS, Titanium, ASMO254, Hastelloy C-276, Nickel Ni201, 904L
.
More details please contact us directly.